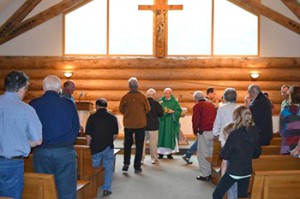 Our beautiful chapel is available to all denominations for services and weddings. The 11 forward-facing pews seat 110 people. There are 4 pews at the front of the chapel, facing the altar at a right angle, which seat an additional 28 people. French doors separating the chapel and the narthex may be opened during services to provide seating for 50 more people.
We have a lovely bride's room, located off the narthex, which is available to those renting the chapel for a wedding.
The Chapel of Our Lady of the Snows is situated in the Girdwood valley with spectacular views of the local mountains and Moose Meadows. It is located within walking distance of the Hotel Alyeska.
The chapel and The Meadows Community Center were designed for access by all.  A lift is available for those needing assistance to access The Meadows Community Center, which is located on the lower level of the building.